Digestive Health - Digestion & Natural Stomach Care
Digestion & Digestive Health - Natural Stomach Care by Anil Minocha, M.D.
Reviews on Amazon:
"I'm a full-time health writer, and after 15 years in the business I've rarely come across a book that so perfectly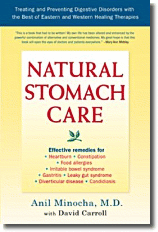 combines medical findings with practical, easy-to-follow advice. Dr. Minocha is clearly an advocate of alternative styles of medicine, yet he approaches his topic with the eye of a scientist. When I want to know what something does, how it works, how to use it myself--the answers are here. This book rarely leaves my desk, and I expect I'll keep using it as a reference for years to come.
"This book is a winner. Speaking as one who has suffered with stomach disorders for a decade, I can testify that the information is solid and easy to understand. In fact, it's the most pragmatic book I have ever seen on this subject."
Read more reviews by clicking on the Natural Stomach Care book above
Read More on Amazon about Natural Stomach Care
Read More on Other Websites about Natural Stomach Care
Disease
Symptoms and Treatment